Mullen Automotive Inc. (NASDAQ: MULN)
Investment Considerations
Mullen Automotive is working diligently to provide exciting EV options built entirely in the United States and made to fit perfectly into the American consumer's life.
Mullen Automotive owns its U.S. manufacturing and assembly footprint with locations in Tunica, MS (commercial vehicles), and Mishawka, IN (consumer vehicles).
The Mullen FIVE EV Crossover is currently open for reservations.
Mullen recently announced a purchase order for 6,000 Class 1 EV Cargo Vans in a transaction valued at approximately $200 million.
The global EV market is forecast to grow at a CAGR of 22.6% through 2027.
Mullen is led by CEO and Founder David Michery, a seasoned executive with more than 25 years of management, marketing, distressed assets and business restructuring experience.
Mullen Automotive Inc. (NASDAQ: MULN) is a Southern California-based automotive company that owns and partners with several synergistic businesses with the goal of building the next generation of electric vehicles. Through its two U.S.-based assembly plants, the company is advancing a development portfolio that includes the Mullen FIVE EV Crossover, Mullen GO™ Commercial Urban Delivery EV, Mullen Commercial Class 1-3 EVs and Bollinger Motors, which features both the B1 and B2 electric SUV trucks and Class 4-6 commercial offerings.
Today, Mullen is working diligently to provide exciting EV options built entirely in the United States and made to fit perfectly into the American consumer's life. The company strives to make EVs more accessible than ever by building an end-to-end ecosystem that takes care of all aspects of EV ownership – from research to financing to servicing.
Mullen FIVE
The Mullen FIVE is a premium compact sport utility EV born out of Mullen's Southern California roots with an inspired design focused on two complementary Golden State themes – California landscape and California urban.
The FIVE is an EV Crossover that offers multiple powertrain configurations and trim levels in a svelte design that is Strikingly Different™ and exciting to experience in person. Capable of 0-60 in 3.2 seconds with a max speed of 155 mph, the FIVE comes with an estimated range of 325 miles and a starting price of $55,000.
The FIVE was on display through the company's Strikingly Different U.S. Test Drive Tour in late 2022, which included stops in nine cities across the southern states. The second leg of the tour is scheduled for Summer 2023 and will include the debut of the Mullen FIVE RS.
Mullen is currently accepting reservations for the FIVE with a $100 refundable deposit. Production home for the Mullen FIVE is at the company's Mishawaka, Indiana, facility, which was acquired through Mullen's December 2022 acquisition of the assets of Electric Last Mile Solutions. The facility, located 100 miles east of Chicago and 200 miles west of Detroit, features over 680,000 sq. ft. of manufacturing space and is home to Mullen's consumer vehicle product line.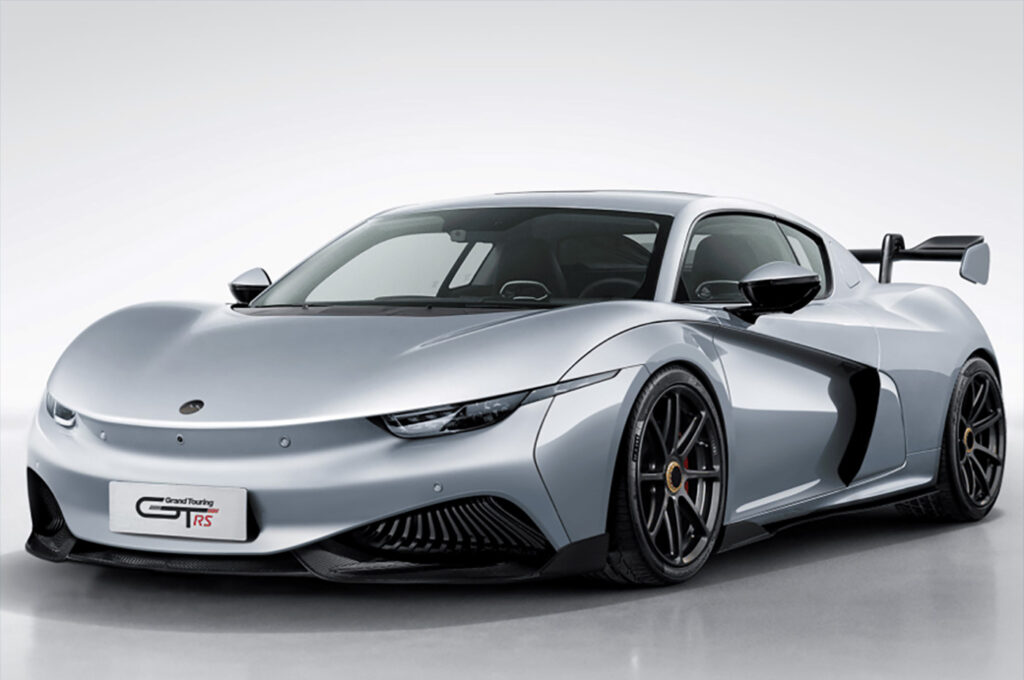 Mullen GT and GTRS
On March 20, 2023, Mullen announced its securement of IP and distribution rights for the DragonFLY K50 electric supercar in the Americas. Through this partnership with Qiantu Motors and its affiliated companies, Mullen intends to begin a program to re-engineer and re-design the product to meet homologation requirements for U.S. certification and customer expectations for today's supercars. Included in the updates with be an improved powertrain targeting sub-2.0 sec 0-60 MPH and a top speed exceeding 200 MPH.
Mullen intends to rebrand the K50 under the MullenGT and GTRS brands, with assembly taking place at its Mishawka, Indiana, manufacturing facility.
Mullen CEO David Michery called the agreement with Qiantu Motors "an important milestone for the company," noting that it "presents the opportunity to fulfill [his] vision for a supercar that would rival some of the best supercars in the world."
Mullen Commercial
Mullen is defining a new era in commercial vehicles with its connected and customized solutions aimed at making businesses more efficient and profitable.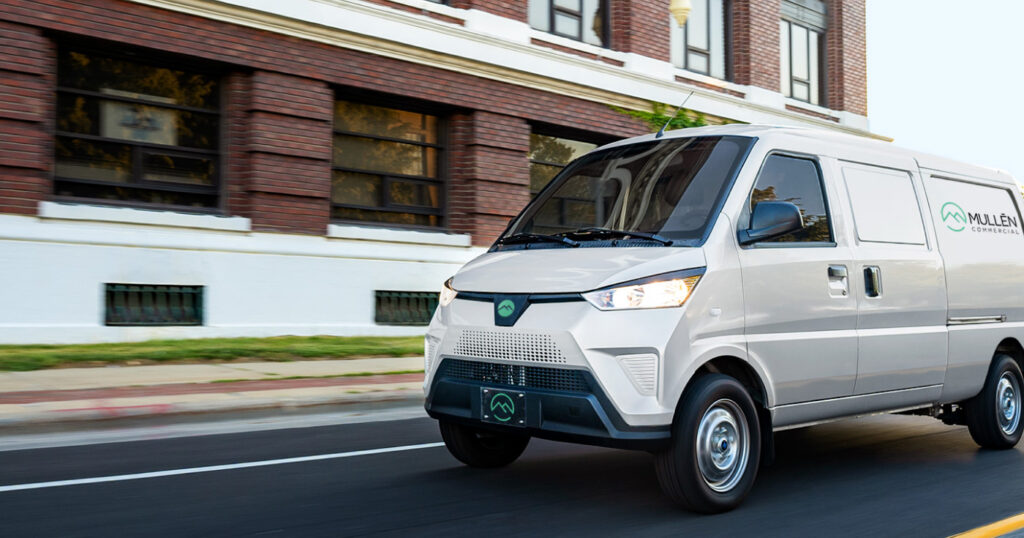 Cargo Vans
The Mullen ONE is a class 1 commercial electric vehicle designed to navigate within narrow urban streets and residential roads, all while maximizing payload and cargo space.
On December 14, 2022, Mullen announced a purchase order from Randy Marion Isuzu LLC, a member of the Randy Marion Automotive Group, for 6,000 Class 1 EV Cargo Vans in a transaction valued at approximately $200 million. In March 2023, CEO David Michery noted that the company intends to begin deliveries in connection with this order in Q1 2023, stating, "I believe we have all the pieces in place between our product, factories and strategic expertise to execute on our plans to deliver our Class 1 and Class 3 vehicles this year."
Building on this momentum, the company announced in early March 2023 a partnership with Rapid Response Defense Systems ("RRDS") to fast-track U.S. Federal Government opportunities for potential large-scale vehicle fleet orders. RRDS, one of the country's leading small business federal contractors, has executed over 2,500 federal government delivery orders since 2014.
On May 2, 2023, Mullen also announced its reception of a 1,000-vehicle order from Randy Marion Automotive Group for its Mullen THREE, a Class 3 low cab forward EV truck. The purchase order is valued at $63 million.
Mullen is currently accepting orders for the Mullen ONE and the Mullen THREE, as well as the Mullen Campus, a class 1 low-speed campus delivery cargo van. On May 4, 2023, the company announced customer vehicle pricing for both models.
Its commercial offerings are manufactured at the company's Advanced Manufacturing Engineering Center in Tunica, Mississippi.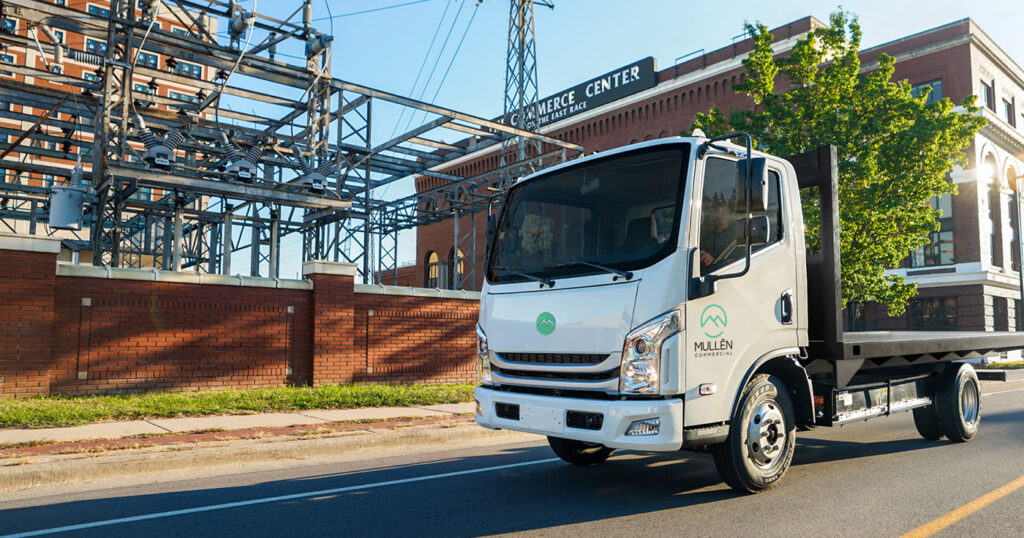 Bollinger Motors
Mullen entered the medium-duty truck classes through its September 2022 acquisition of a controlling interest in EV truck innovator Bollinger Motors. The acquisition gave Mullen access to a significant pipeline of interest from large companies for commercial electric truck classes 3-6 in a wide range of markets, such as last-mile delivery, refrigeration, utilities and upfitters.
The all-new Bollinger B4, B5 and B6 Chassis Cabs are designed from the ground up, with driver safety and fleet efficiency as the first priorities. These purpose-built electric trucks have been designed to be custom configured by fleets to fit their exact duty cycle needs, making transitioning to electric as seamless as possible with minimal downtime.
The Bollinger B4 is expected to be available in Spring 2024, with the B5/B6 following at time that's yet to be announced.
Mullen-GO™
Perfect for urban European markets, the Mullen-GO bridges the gap between the growing demand for quick deliveries and space constraints in dense cities throughout Europe. It was designed to easily handle the stop/go and weave in/out typical of narrow urban European streets, getting to the customer's door faster while decreasing pollution and congestion levels.
The Mullen-GO commercial EV is EU standard homologated, certified and ready for sale in initial markets of UK, Germany, Spain, France and Ireland.
EV Market Outlook
The global EV market was reported to consist of 3,269,671 units in 2019, a figure that is expected to grow at a CAGR of 21.1% through 2030 to a total of 26,951,318 units worldwide. This market's monetary value was estimated at $162.34 billion in 2019 and is expected to grow at a CAGR of 22.6%, resulting in an approximate value of $802.81 billion by 2027. The primary driver for this exponential growth is a worldwide increase in vehicle emissions regulations.
Management Team
Mullen is led by an executive team with extensive EV, OEM and high-growth startup experience.
David Michery is the CEO and Founder of Mullen and has been leading the company and its divisions since inception in 2014. With over 25 years of executive management, marketing, distressed assets and business restructuring experience, Mr. Michery brings a wealth of relevant knowledge and expertise to the Mullen brand.
Mr. Michery is working toward a sustainable future accessible to all by creating a suite of clean-energy electric vehicles at varied price points. With entirely U.S.-based manufacturing and operations, he is also determined to have Mullen play a role in shaping a self-sustaining local economy by creating more jobs in America.
Mr. Michery manages risks and company expectations as a pathway to success and has personally overseen several businesses that totaled over $1 billion in transactions. His key strength is the ability to be fiscally responsible and lead teams to complete projects on time and within budget. As a seasoned professional in this space, Mr. Michery has demonstrated skill in building businesses from the ground up and into successful entities that subsequently sold for hundreds of millions of dollars.
Additional Resources